For our baby wipes, we use soft bamboo cotton (70/30) in a natural look. 
Our wipes have a handy size of 14 x 10 cm and are perfect for cleaning your baby's face, hands and buttocks. 
During production, we make sure that no dyes or other chemicals are used.
In addition, our BabyWipes include a practical description including tips and care instructions, as well as a cotton wash bag.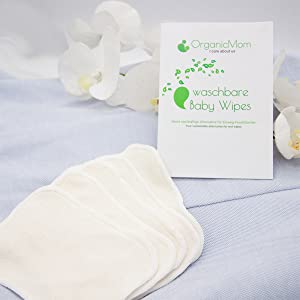 Sustainable and super soft

Washable at 60 °C

Zero Waste

For face, hands and buttocks

Suitable for any baby's first equipment
Sustainable:
save waste and do something good for your environment and your loved ones.
Our practical baby wipes replace up to 3000 wet wipes per year, not forgetting the plastic waste in which the wipes are packed.
The Baby wipes are versatile and are particularly suitable for dry and sensitive skin.
Made out of Bamboo:

Bamboo grows incredibly quickly, sometimes even a whole meter/day. Therefore, large quantities can be beaten every year without harming the environment. Unlike traditional trees, when felling bamboo does not die the whole plant. Sweet grasses such as bamboo develop underground root systems, with which they quickly regenerate and form new straws – it does not require toxic fertilisers and is therefore infinitely reproducible.